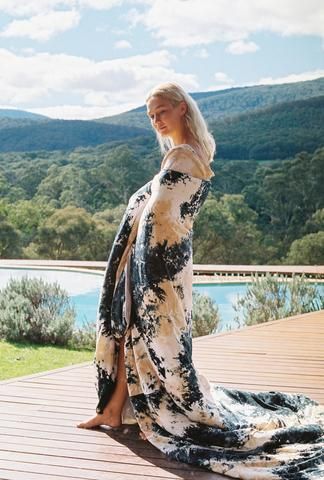 Suku Desert Quilt Set
1 Queen Size Quilt with 2 pillow cases.
A marbled design of black and nude, this print is inspired by arial views of the Earth - the formations of land, sea and clouds as seen from above. We have combined the beautiful abstract qualities of these images with the colour and dip-dye techniques of highly-skilled artisans in our Bali studio.
Our bedding is made from 100% bamboo rayon, and each set is carefully and individually hand-dyed using a traditional Batik technique. Your SUKU is hand sewn and made with love in our Bali studio.
Ultra-soft and silky to the touch, bamboo-derived rayon is softer than any high thread count cotton. SUKU sheets keep you in a state of bliss!
NB: Slight colour variance by dying lot – Colour of product may appear slightly different depending on your viewing screen. Products also may differ slightly in colour and pattern, as the fabric is hand-dyed and each item is unique.
sold out